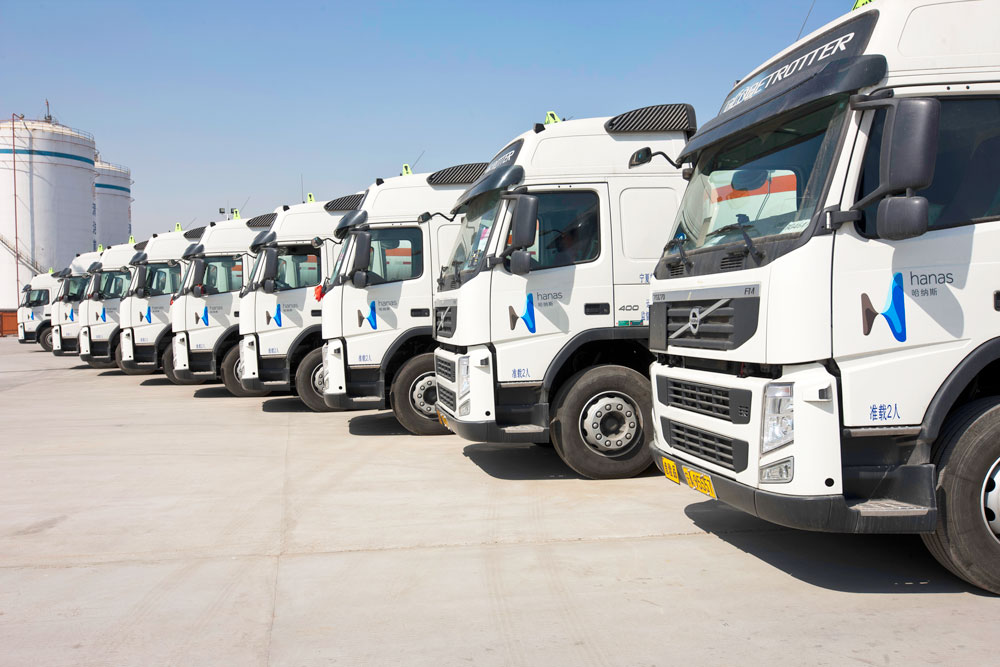 Logistics Service
Established in 2011,Ningxia Hanas Logistics Co., Ltd., is a modern LNG transportation and logistics enterprise. The company is located in an area of 35 mu (over 23,000 square meters) on 56 Baohu West Road, Economic and Technological Development Zone II, Yinchuan, Ningxia, and currently hires more than 300 employees. Based on the Hanas Group platform and the brand advantage as well as its powerful operation and resource-integrating capabilities, the company has built a complete system of logistics and transportation, which has uplifted Hanas influence in the LNG industry.
Advantages: We have implemented the worldwide advanced transportation management system (HDS) which enables us to have intelligent, visible and real time scheduling and monitoring of the vehicles.
Capacity: The company owns a fleet of 120 Volvo LNG truck-tractors, and manages and deploys more than 2,000 vehicles through cooperation contracts with more than 100 transportation companies.
Volume: By the end of 2020,the total cumulative transportation mileage was more than 90 million kilometers, and the total transportation volume more than 800 million tons.
Coverage: Our logistics business has covered more than 70% area in China.
Future plan: In the future, we will run an expanded fleet of more than 3,000 trucks in total. Our total cumulative transportation mileage will surpass 150 million kilometers, with our business covering all over the Chinese mainland.